View printer-friendly version
<< Back
NuStar to Participate in J.P. Morgan's Mid-West Energy Infrastructure/MLP 1x1 Forum
SAN ANTONIO--(BUSINESS WIRE)--Sep. 14, 2018-- NuStar Energy L.P. (NYSE: NS) announced today that President and Chief Executive Officer, Brad Barron, and Executive Vice President and Chief Financial Officer, Tom Shoaf, and other members of senior management will participate in meetings with members of the investment community at J.P. Morgan's Mid-West Energy Infrastructure/MLP 1x1 Forum in Chicago, IL on Thursday, September 20, 2018. The materials to be discussed in the meetings will be available on the partnership's website at 8:30 a.m. Central Time, Thursday, September 20, 2018.
NuStar Energy L.P., a publicly traded master limited partnership based in San Antonio, is one of the largest independent liquids terminal and pipeline operators in the nation. NuStar currently has more than 9,700 miles of pipeline and 82 terminal and storage facilities that store and distribute crude oil, refined products and specialty liquids. The partnership's combined system has more than 97 million barrels of storage capacity, and NuStar has operations in the United States, Canada, Mexico, the Netherlands, including St. Eustatius in the Caribbean, and the United Kingdom. For more information, visit NuStar Energy L.P.'s website at www.nustarenergy.com.
View source version on businesswire.com: https://www.businesswire.com/news/home/20180914005506/en/
Source: NuStar Energy L.P.
Investors, Tim Delagarza, Manager, Investor Relations
Investor Relations: 210-918-INVR (4687)
or
Media, Mary Rose Brown, Executive Vice President and Chief Administrative Officer,
Corporate Communications: 210-918-2314
website: http://www.nustarenergy.com
Stock Information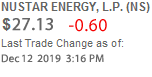 Computershare Investor Svcs, LLC
Shareholder Communications Team
P.O. Box 505000
Louisville, KY 40233-5000 USA
888-726-7784
http://www.computershare.com/investor