View printer-friendly version
<< Back
NuStar GP Holdings, LLC Unitholders Approve Merger with NuStar Energy L.P.
SAN ANTONIO--(BUSINESS WIRE)--Jul. 20, 2018-- NuStar GP Holdings, LLC (NYSE: NSH) and NuStar Energy L.P. (NYSE: NS) today announced that the NSH unitholders have approved the merger of NSH with a wholly owned subsidiary of NS. Approximately ninety-eight percent of the NSH units that voted were cast in favor of the merger, representing approximately sixty-five percent of NSH's total outstanding units as of the record date.
NuStar expects the merger to be completed later today, resulting in NSH unitholders being entitled to receive 0.55 of a common unit representing a limited partner interest in NS ("NS common unit") in exchange for each NSH unit owned at the effective time of the merger. Cash will be paid to NSH unitholders in accordance with the merger agreement in lieu of any fractional units they otherwise would have been entitled to receive. As a result of the merger completion, units of NSH will cease trading at the close of business today. NS common units will continue to be traded on the NYSE under the ticker "NS."
"We are pleased that our unitholders voted in favor of approving the merger," said Brad Barron, president and chief executive officer of NS and NSH. "We have experienced a fundamental shift in the Master Limited Partnership (MLP) sector that required some transformative actions to ensure the long-term financial strength of the company. The decision to simplify our corporate structure and eliminate the incentive distribution rights will lower our cost of capital and allow us to continue to build on the strength of our superior asset base with less dependence on the equity capital markets. It will also create a more efficient and transparent structure and it is a critical step in the implementation of a comprehensive plan launched earlier this year to position NuStar to successfully de-lever and deliver strong, sustainable distribution coverage."
About NuStar Energy L.P. and NuStar GP Holdings, LLC
NuStar Energy L.P., a publicly traded master limited partnership based in San Antonio, is one of the largest independent liquids terminal and pipeline operators in the nation. NuStar currently has more than 9,400 miles of pipeline and 82 terminal and storage facilities that store and distribute crude oil, refined products and specialty liquids. The partnership's combined system has more than 97 million barrels of storage capacity, and NuStar has operations in the United States, Canada, Mexico, the Netherlands, including St. Eustatius in the Caribbean, and the United Kingdom. For more information, visit NuStar Energy L.P.'s website at www.nustarenergy.com.
This press release includes "forward-looking statements" as defined by the SEC. All statements, other than statements of historical fact, included herein that address activities, events or developments that NS expects, believes or anticipates will or may occur in the future, including the anticipated benefits and other aspects of the merger, are forward-looking statements. These forward-looking statements are subject to risks and uncertainties that may cause actual results to differ materially, including the possibility that the anticipated benefits from the merger cannot be fully realized, the possibility that costs or difficulties related to integration of the two companies will be greater than expected, and the impact of competition and other risk factors included in the reports filed with the SEC by NS. Readers are cautioned not to place undue reliance on these forward-looking statements, which speak only as of their dates. Except as required by law, NS does not intend to update or revise its forward-looking statements, whether as a result of new information, future events or otherwise.
View source version on businesswire.com: https://www.businesswire.com/news/home/20180720005391/en/
Source: NuStar GP Holdings, LLC and NuStar Energy L.P.
NuStar Energy, L.P., San Antonio
Investors, Chris Russell, Treasurer and Vice President Investor Relations
Investor Relations: 210-918-3507
or
Media, Mary Rose Brown, Executive Vice President and Chief Administrative Officer,
Corporate Communications: 210-918-2314
website: http://www.nustarenergy.com
Stock Information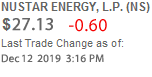 Computershare Investor Svcs, LLC
Shareholder Communications Team
P.O. Box 505000
Louisville, KY 40233-5000 USA
888-726-7784
http://www.computershare.com/investor