View printer-friendly version
<< Back
NuStar Energy L.P. To Extend Binding Open Season for Proposed Niobrara Falls Project To December 14
SAN ANTONIO--(BUSINESS WIRE)--Nov. 14, 2012-- NuStar Energy L.P. (NYSE:NS) announced today that its affiliate, NuStar Logistics, L.P. ("NuStar"), will extend the Niobrara Falls Open Season from noon CT November 15, 2012 to noon CT December 14, 2012.
As previously announced, NuStar is assessing shipper interest in firm priority space to transport crude petroleum from the Niobrara Shale near Platteville and Watkins, Colorado to Wichita Falls, Texas (the "Niobrara Falls Project"). The Niobrara Falls Project would also have the capability to transport Permian and Granite Wash crude petroleum delivered into NuStar's Dixon, Texas Tank Farm for delivery to the various destinations. This extension will provide NuStar and its potential shippers more time to discuss strategic alternatives involving NuStar pipeline assets in these shale areas.
More information about the project and the open season is available at www.nustarenergy.com/Customers/Pages/NuStarOpenSeason.aspx.
NuStar Energy L.P., a publicly traded master limited partnership based in San Antonio, is one of the largest independent liquids terminal and pipeline operators in the nation. NuStar currently has 8,433 miles of pipeline; 82 terminal and storage facilities that store and distribute crude oil, refined products and specialty liquids; a fuels refinery with a throughput capacity of 14,500 barrels per day; and 50% ownership in two asphalt refineries with a combined throughput capacity of 104,000 barrels per day. The partnership's combined system has approximately 94 million barrels of storage capacity, and NuStar has operations in the United States, Canada, Mexico, the Netherlands, including St. Eustatius in the Caribbean, the United Kingdom and Turkey. For more information, visit NuStar Energy L.P.'s Web site at www.nustarenergy.com.
Source: NuStar Energy L.P.
NuStar Energy, L.P., San Antonio
Investors, Chris Russell, Vice President
Investor Relations: 210-918-3507
or
Media, Mary Rose Brown, Senior Vice President,
Corporate Communications: 210-918-2314
Web site: http://www.nustarenergy.com
Stock Information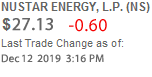 Computershare Investor Svcs, LLC
Shareholder Communications Team
P.O. Box 505000
Louisville, KY 40233-5000 USA
888-726-7784
http://www.computershare.com/investor