| | |
| --- | --- |
| 1. | What is NuStar Energy L.P.'s trading symbol and on which exchange is it listed? |
|   | NuStar Energy L.P. (NuStar) is a publicly traded Master Limited Partnership that trades on the New York Stock Exchange (NYSE) under the symbol "NS." |
| | |
| --- | --- |
| 2. | What is a Master Limited Partnership (MLP)? |
|   | MLPs are limited partnerships that are traded on public stock exchanges. An ownership interest in an MLP is called a "unit," and owners of MLP units are known as "unitholders." |
| | |
| --- | --- |
| 3. | Who invests in MLP units? |
|   | In general, MLPs pay available cash to unitholders through quarterly distributions. In addition, MLPs are tax-advantaged investments, as unitholders benefit from the fact that MLPs are not typically subject to the entity level federal income taxes of a corporation. Unitholders pay tax on their proportionate share of the MLPs income, which may be reduced by their share of tax deductions. |
4.

What are the tax implications of ownership?
 
While MLPs do not pay any federal income tax, each unitholder is required to report their share of partnership income, gains, losses, deductions and credits on their income tax return. Each year, an MLP provides each unitholder with this information on Schedule K-1 for the previous fiscal year. The K-1 is typically available online in early March and mailed shortly thereafter. A press release is issued notifying the investor base of their K-1 availability.

Information on the K-1s for NuStar Energy L.P. can be found by clicking on the link below or by contacting NuStar's K-1 Support at (800) 310-6595.
| | |
| --- | --- |
| 5. | How do I purchase MLP units? |
|   | Your broker can facilitate purchases of MLP units on the open market. |
| | |
| --- | --- |
| 6. | When are MLP distributions paid? |
|   | Most MLPs pay distributions each quarter. NuStar's partnership agreement provides that distributions are paid within 45 days after the end of each fiscal quarter. |
| | |
| --- | --- |
| 7. | Does NuStar have a direct investment plan or a distribution re-investment plan (DRIP) available? |
|   | We do not currently have a direct purchase or DRIP plan in place. |
8.

How do I obtain copies of NuStar's annual report and other SEC filings?
 
You can find electronic copies of NuStar's annual report, as well as its other SEC filings on the Financials and SEC Filings pages of the Investors section of this Web Site and at sec.gov.

Investors may also request a paper copy of NuStar's Annual Report on Form 10-K (including complete audited financial statements) at no charge, by writing to:

Investor Relations Department
P.O. Box 781609
San Antonio, TX 78278

9.

Who is NuStar's transfer agent?
 
Computershare Investor Services, LLC
Shareholder Communications Team
P.O. Box 30170
College Station, TX 77842-3170
Phone: (888) 726-7784
www.computershare.com/investor
10.

How may I contact Investor Relations?
 
You can contact NuStar's Investor Relations department by mail, phone, fax or email at:

P.O. Box 781609

San Antonio, TX 78278
Phone: (800) 866-9060 or (210) 918-2311
Fax: (210) 918-5421
investorrelations@nustarenergy.com

For additional information on MLPs, we encourage you to visit the Master Limited Partnership Association (MLPA) Web site at www.mlpassociation.org.
Stock Information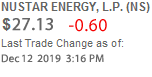 Computershare Investor Svcs, LLC
Shareholder Communications Team
P.O. Box 30170
College Station, TX 77842-3170 USA
888-726-7784
http://www.computershare.com/investor